Blog
Back
Picnic in an Orchard in Regina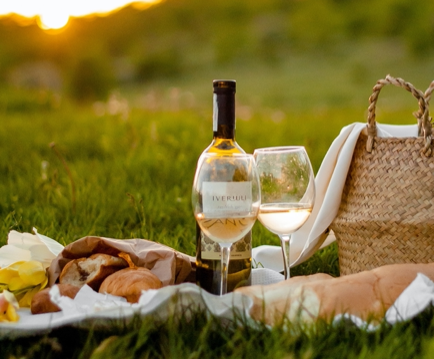 The trees are starting to bloom, the weather has picked up, and the snow is gone. Spring has arrived, and with it is the promise of spending all day out in the sun. Take some time this spring to slow down and have a relaxing day to treat yourself. Head out to one of Regina's beautiful parks and have a picnic. Food, sun, and relaxation - three things that make a perfect 'treat yourself' day. You can grab some food from a Regina restaurant or café, bring your own blanket, and head to a public park, or you can go with a pre-packaged plan at a local orchard and winery!
PICNIC PACKAGE
Over the Hill Orchard and Winery is offering picnic packages that started mid-April and run through the rest of the year. They're a wonderful way to have a picnic without having to plan the details of what to pack, how to pack it, and where to go - everything is already set up for you to pick up and go. Over the Hill is Located a mere 25-minute drive from the city centre of Regina, and the picnic spots are in and along the Wascana Trails
PICNIC LOCATIONS
There are three different picnic spots to choose from: The Nook, The Cliff, and The Vista, all which have beautiful views of Wascana creek, sitting amid the lush greenery of the park. The Nook is nestled between the trees, the Cliff sits higher on the trails looking down at the creek, and the Vista is a panoramic view of the park in the field. When booking your time slot, you can choose between whichever option you want to visit most.
PICNIC ITEMS
The picnic comes in a backpack for easy carrying and includes bread, cheese & jam accompanied with dried meat and a bottle of wine. Glasses, utensils, napkins, and a blanket are all included as well, so there's nothing additional that you need to bring. Tickets can be purchased online for an hour-long reservation and all the picnic essentials.
If you're going to be visiting Regina this Spring, choose to stay at the Home Suites Regina East. Home Suites has comfortable amenities and friendly staff and is one of the top-reviewed hotels in Regina.
Back
Recent Post
Prev Post
Next Post